During our recent vacation in St. Croix, we had one evening left to experience something special. I would have loved to have been there for Jump Up, a carnival like party held four times a year in Christiansted, but we missed it by a week. So, I got online to search for an adventure and quickly found it. Glass Bottom Kayaking in a Bioluminescent Bay! "What the heck is that?" was the reply we got when we told our traveling friends what we wanted to do that last night. Kayaking – AT NIGHT – in a pitch black lagoon? Were we crazy?
We had read about a bioluminescent bay in Vieques, but didn't realize there was one in St. Croix. The organism that creates the luminescence is called a single celled bioluminescent dinoflagellate. This organism emits a greenish light when agitated at night. The conditions, including how bright the moon is that night, need to be just right to get a good effect and our guide thought that tonight might be just right.
We were to meet our guide at Altoona Lagoon on the northeast side of St. Croix at about 6:30p.m. We were excited, but a bit nervous given we had really only kayaked once and it was in broad daylight.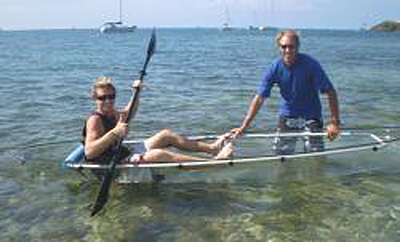 Craig and Bryce Scott, the owner/operators of Sea Thru Kayaks VI met us at a small bonfire close to the mouth of Altoona Lagoon and had smore's ready for us to prepare while we waited for the rest of the group.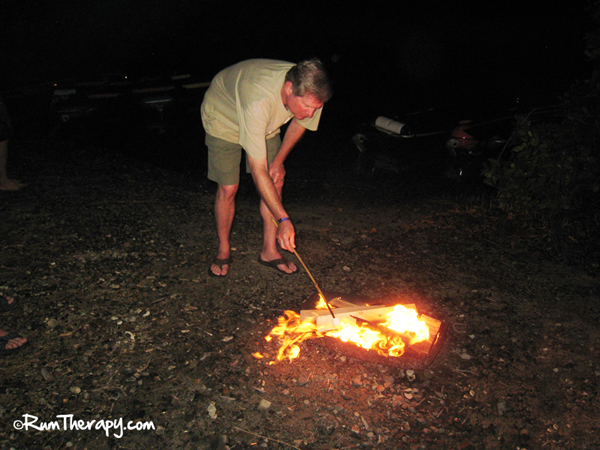 The Scott's own 10 glass bottomed kayaks called Molokinis, an all-transparent two passenger kayak made out of the same durable polycarbonate material used in the production of bulletproof glass and fighter jet canopies.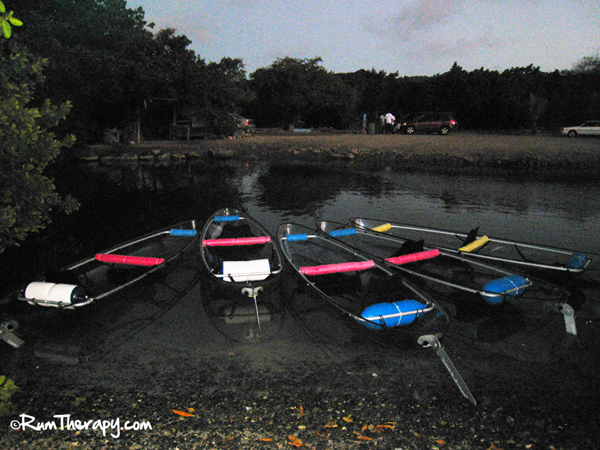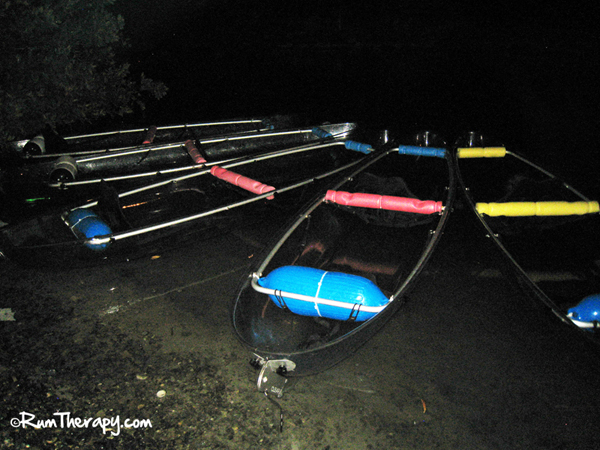 The rest of the group arrived, Bryce and Scott loaded us all into our kayak (two per kayak) and we were off. We ended up at the back of the pack somehow and as we headed off in the pitch dark toward the big lagoon we both wondered what we were getting in to!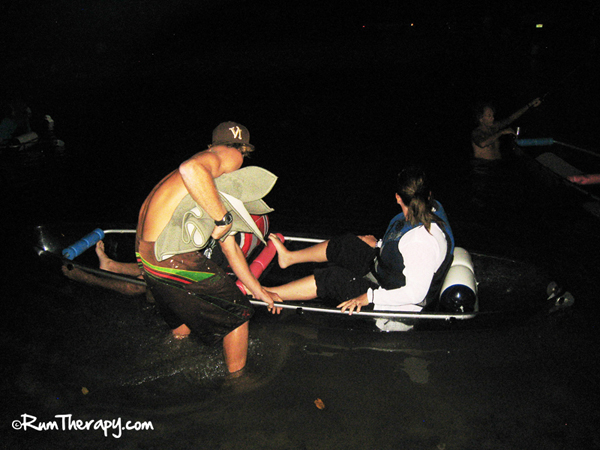 Bryce did a pretty good job of keeping all of the kayaks together even though he was only equipped with a glow stick and a flashlight. He warned us that we may have fish jump right into our kayak and not to panic! No problem! We had to work pretty hard against the current to get to the other side of the lagoon where the bioluminescent organism had the strongest concentration. About halfway there, we started to notice bright little sparkling flashes under us – cool! It was really hard to get on camera – our flash was not conducive to capturing the glow of what we were seeing, but you can see a few of the sparkles on the bottom of the boat here.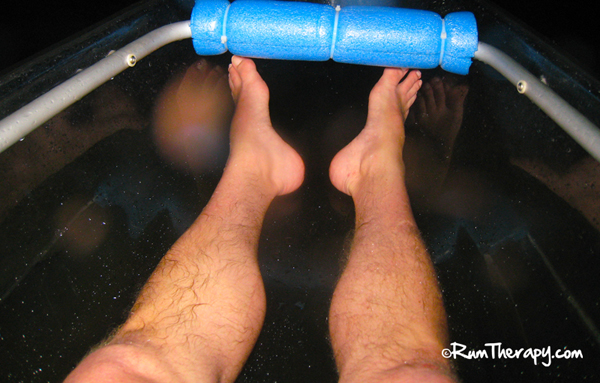 As we got to the other end of the lagoon the luminescence got stronger. Whatever touched the water made it glow – the oar, your hand, even fish underneath the boat! It was quite a sight! We played in the lagoon for about 15 minutes until raindrops began to fall. Bryce rounded us up and said we better be getting back – sometimes these squalls can get quite nasty! Hmmm…in a kayak in the dark in the middle of a lagoon and no clue how to get back. We got right in line behind him!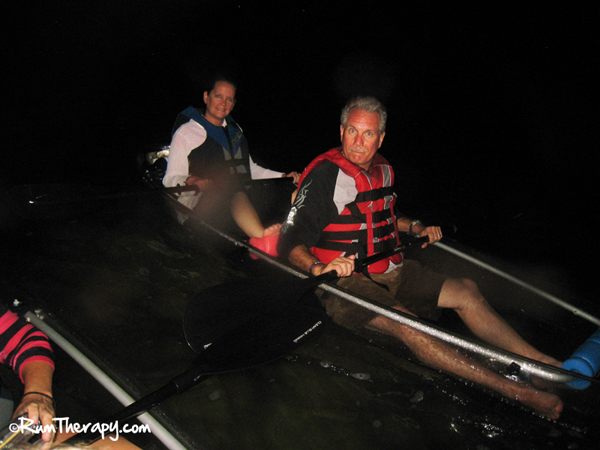 Sure enough, as we headed back, several minnows jumped right into the kayak. A little freaky at first to feel them flipping around against your leg in the kayak in the dark. Glad he warned us…
We arrived back at our base in good shape. What an adventure. Wish we could share more pics, but guess you'll have to see it for yourselves!
To find out more about Sea Thru Kayaks, VI, check out their website: Sea Thru Kayaks, VI


More posts on St. Croix that you might be interested in:
Turtle Beach, Buck Island, St. Croix
copyright©Rum Therapy
Pictures and other content may not be re-used without written consent from Rum Therapy, LLC