Cruzan Rum recently announced the launch of their newest spirit, Cruzan Strawberry. It's the 11th spirit in their family of flavored rums, and the recipe is crafted with a touch of ginger to give a unique spin to the strawberry taste. Here are some other details:
Tasting Notes and Aroma:
•       Taste – Ripe, wild strawberry coupled with subtle ginger root
•       Aroma – Fresh and juicy strawberry
•       Finish – Smooth with a light spiced ginger finish
After reading this press release from the folks at Cruzan Rum, we'd been eagerly awaiting the arrival of the new Strawberry Rum. We're recent fans of Cruzan Rums since our Cruzan Rum Factory Tour in St. Croix in February, and have enjoyed using the Cruzan flavored rums in many boat and beach drinks such as the Cruzan Confusion! Last week, we were lucky enough to find a bottle of the newly released Cruzan Strawberry Rum after visiting nearly every liquor store in our area. 
After scoring the desired bottle, we asked our Facebook friends for recipe suggestions. In addition to some excellent suggestions from our readers, Cruzan Rum Representative, Justine, also kindly volunteered a few recipe ideas. We asked a couple of friends if they would assist us in some Strawberry Rum recipe testing this weekend, and with minimal (no) arm twisting, they obliged!
We picked two recipes to start with and began to assemble the necessary ingredients.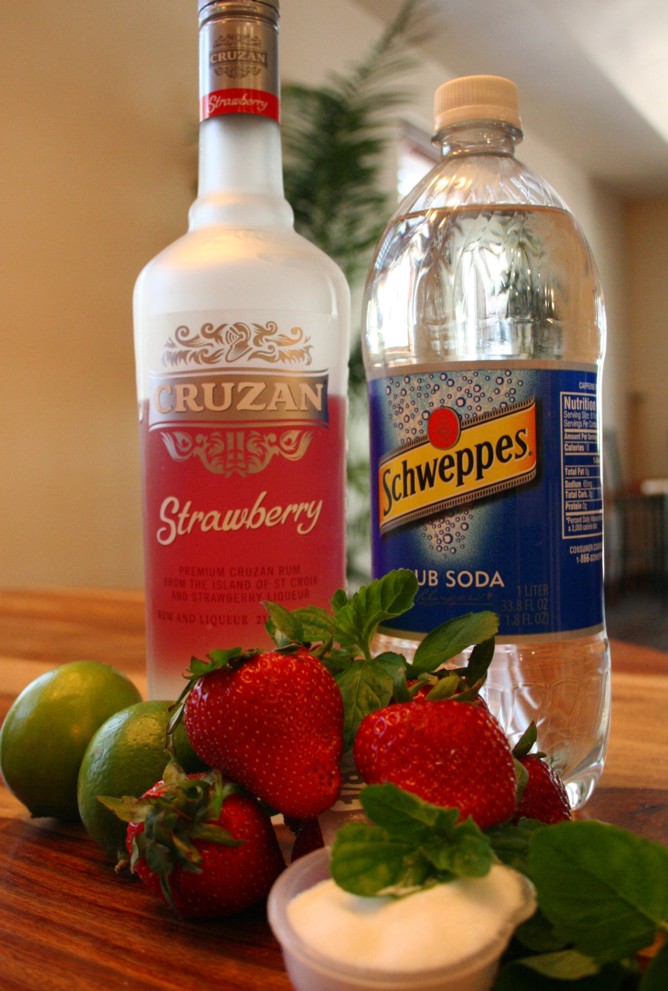 First on the agenda was a Strawberry Mojito using the recipe from Cruzan Rum. The recipe called for Cruzan Strawberry Rum, sugar, mint leaves, juice of half a lime, and club soda. We muddled the sugar, mint, lime juice and a splash of club soda.
 We then added the rum (note the exceptional choice of shot glass!),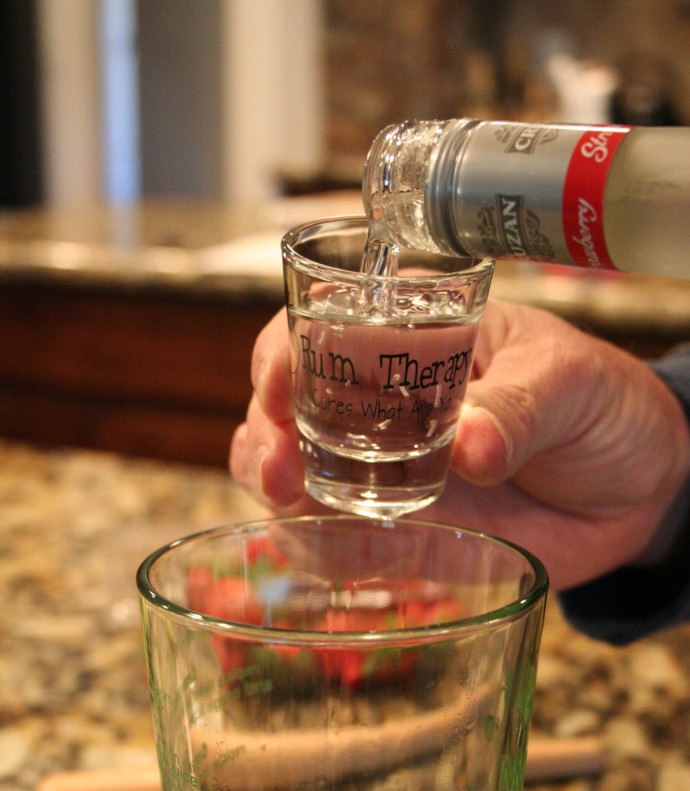 Then poured it over ice in a tall glass and garnished with lime and strawberry.
After a little sampling and tweaking, this is the version of the recipe that we liked best.
Strawberry Mojito
(makes two)

3 to 3.5 oz. Cruzan Strawberry Rum
2 tsp. sugar
4 mint leaves
Juice of half a lime
6 oz. plus a splash of club soda
Muddle the mint leaves, sugar, lime juice and a splash of club soda. Add the remaining club soda and stir. Pour into a tall glass over ice. Garnish with a slice of lime and a strawberry.
It seems easy to overpower the taste of the strawberry with too much mint, so we initially tried 8 leaves then reduced the amount to 4 leaves per serving. The overwhelming consensus of all 4 taste testers was that the Cruzan Strawberry Mojito was crisp, light and very refreshing – an excellent summer beverage!
To make a Skinny Strawberry Mojito: Substitute 1/2 – 1 packet (.5 – 1 gram) Stevia for the sugar and/or Sprite Zero for the club soda. Tweak the amounts until the taste is just as you like it!
Stay tuned – more Cruzan Strawberry Rum Recipes (Part 2) in tommorow's post!
photos: Pamela Ott