I have a playlist on my iPod entitled BEACH. There are 34 songs on BEACH. I know – that's not a lot especially considering there are nearly 5,000 on the iPod itself. So what 34 songs are on my BEACH Playlist? Well, you'd probably be surprised – I mean coming from someone with a degree in music you might expect a lot of classical music or jazz or something respectable like that. There are no classical or jazz tunes on BEACH. Instead you'll find songs such as "That's Not My Name" by the Ting Tings and "I'm On a Boat" from Lonely Island.
O.K., so you probably won't be surprised by Jimmy Buffet's, "He Went to Paris" or Kenny Chesney's "No Shoes, No Shirt, No Problems", but what about "Sweet Emotion" by Aerosmith, Ben Harper's "Steal My Kisses", "Life is Beautiful" by Keb' Mo',  OR "Sangria Wine" by Jerry Jeff Walker?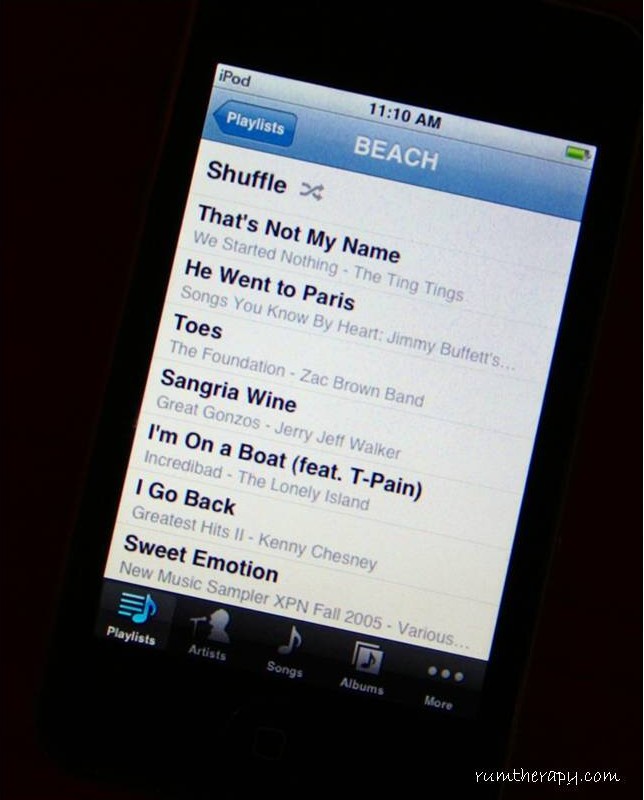 Funny how music can remind us of certain times in our lives; like good times in high school, summertime, a first kiss, someone we cared about and lost or great vacations and good times with friends. As Kenny Chesney sings in another song from my BEACH playlist "I Go Back":
Every time I hear that song
I go back, I go back
There are 847 songs on my VACATION playlist. These are the songs that are played while playing in the sand, the sun, and the sea with friends and family on relished vacations, but the BEACH playlist is reserved for one thing. Every song on the BEACH playlist takes me back to a vacation time that was special: sailing into White Bay for the first time singing "I'm On a Boat" at the top of our lungs, that last awesome cruise with my dad, playing Liar's Dice at Rhythms at Rainbow Beach in St. Croix, singing a song with the band to win a shot at The Last Resort, pretending we were Johnny Depp finding the rum on Petit Tobac and an especially awesome evening with friends on a sailboat – drinking rum, laughing and watching the sun set over the beautiful Caribbean water.
The BEACH songs are the songs I listen to when I need a short escape. I turn the music on loudly, pour my favorite rum drink and then put my feet up,  close my eyes and smile as I remember each and every great memory. Ahhh…Life IS Beautiful.
What songs AND memories are on your BEACH playlist?