I don't have a favorite. I love them all equally – they're all my children.
Dwayne Allen, Chief Rum Expert, Rum Bar at the Breadfruit
We were invited to attend an invitation only rum tasting event at Rum Bar at The Breadfruit in downtown Phoenix, Arizona last Saturday. This particular tasting would cover the rums in the Appleton Estate Family.
We arrived at the Rum Bar and met co-owner Dwayne Allen, a soft spoken, personable man with Jamaican roots, who exudes an enthusiasm for the spirit of rum and appeared to have an extensive knowledge of rums in general, rum history and production. As we frequently do, we asked Dwayne if he had an all time favorite rum, and his response was "I don't have a favorite. I love them all equally – they're all my children." That's a lot of children to love. The Rum Bar normally has 108 rums to choose from – currently they're up to 114.

The evening was a delicious and educational event. We were greeted with a glass of Kingston Rum Punch made from Dwayne's family recipe, and served delectable treats created by Dwayne's partner, Danielle Leoni, such as Braised Oxtail Sliders and Red Stripe Curried Prawns.
It then was time to get down to business and start sampling and learning about the Appleton Estate Rums.

We first sampled the mixing rums, Appleton White and Gold and were given three aroma sticks to dip in molasses, orange and vanilla to help our senses identify the different flavors in the rum.

We continued with a sample of the first level of sipping rums, the V/X and the Reserve. These rums are traditionally enjoyed neat, with a cube of ice or just a splash of seltzer water.
Danielle then sent out a lovely plate of Petit Fours to enjoy with the next two rums on the menu, the 12 Year Old and the 21 Year Old.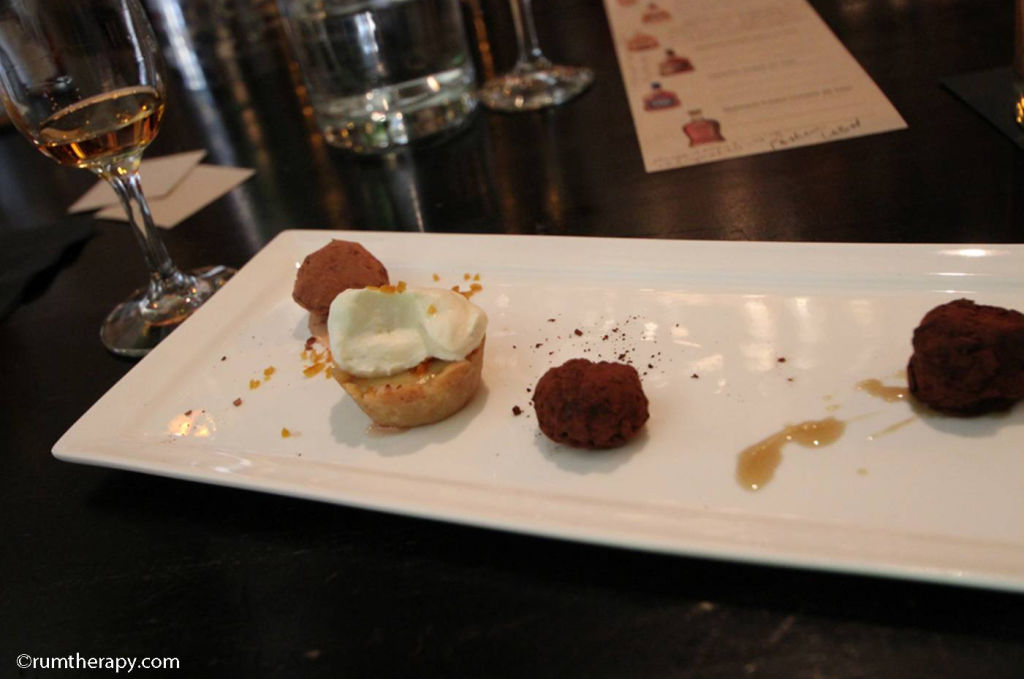 We'd tasted the 12 Year Old before and both it and the 21 Year Old were very good. Through Dwayne's tutelage we learned to hone in on the aroma and taste differences in the different ages of rum. We enjoyed every golden drop, savoring the pairing of flavors with the goodies shown above.
Dwayne explained that rums that have been properly aged (no additives, etc.) should display and "olive line" a faint green line at the top of the rum in a glass. We witnessed this in both of the rums at this level.

As if we hadn't experienced rum bliss already, then came the pièce de résistance – Appleton Estate Limited 30 Year Old.

Less than 1,500 bottles of this exclusive rum were manufactured and only 770 made it to the U.S. We were told that the Appleton Estate Limited Edition 30 Year Old is the oldest rum commercially available on the planet. When we learned how rare this bottle was, we prepared ourselves for a rum sampling of a lifetime!

How was it? We are certainly not rum experts or connoisseurs, but we thought it was nothing short of amazing. Absolute perfection in a glass. But don't take our word for it. Word has it that one of the very few places you can taste this ultra elusive treasure is the Rum Bar at The Breadfruit. Stop by soon before it's gone for good!
To find out more about The Rum Bar including their Rum Tasting Series, Flights of Rum Events, Cigar and Rum Pairings, Craft Cocktails and Rums, check out their website: Rum Bar

While you're there, enjoy some award winning modern Jamaican Cuisine at The Breadfruit (the Sea Scallops coated with Appleton Rum and the house hot and spicy jerk rub are awesome!) Check out The Breadfruit website for more info.