We visited Jost Van Dyke on a week long sail trip to the BVI's in 2010. The day we spent wandering the beautiful White Bay enjoying Rum Therapy in every bar from One Love to Ivan's made us realize we'd like to spend more time there. We began to research accommodation possibilities for our recent trip and decided to rent a cottage at White Bay Villas and Seaside Cottages.
Jost Van Dyke is a mere 3 square miles and the smallest of the four main islands of the British Virgin Islands. It's hard to find the exact number of full time inhabitants, but it looks to be less than 300. We realized before booking our trip that this could be a very quiet and relaxing week and reveled in the idea of walking lazily through the sugar white sands of White Bay. Jost is also home to some of the Caribbean's best beach bars, including the infamous Soggy Dollar and Foxy's, so we knew it would be an interesting week!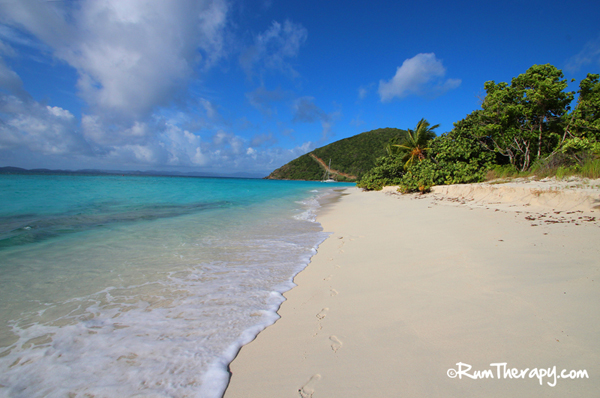 Since there was just two of us on this trip, we opted for a Cottage, which comfortably sleeps two. We flew in to St. Thomas, took a ferry to West End Tortola and went through customs, then caught a ferry to Jost Van Dyke. We grabbed a taxi from the dock and made our way to the cottage.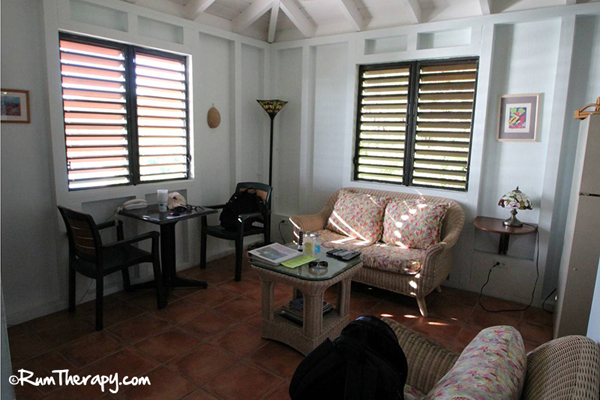 Living Room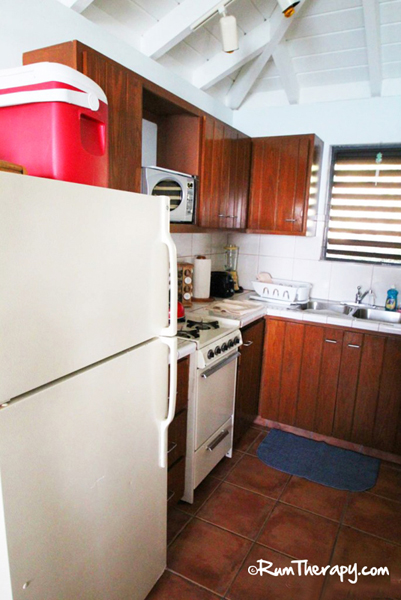 Kitchen with refrigerator, microwave, oven and stove

Gorgeous view of White Bay from the deck of Papaya

So, would we stay at White Bay Cottages and Villas again? Heck, yeah. We stayed there the first week of November and here are a few things we learned:
1. Our Cottage (Papaya) was simple, comfortable and clean. It was big enough to spend the day hanging out, reading and relaxing, but just a short hike away from gorgeous White Bay.
2. Food can be ordered through Bobby's Market on Tortola and sent over on the ferry. There is at least one small market in Great Harbour, but the provisions are limited.
3. Air conditioning was really nice at night at that time of year and we were thankful that Papaya had a small bedroom unit.
4. The porch of each Cottage overlooks beautiful White Bay and is an excellent place to enjoy your meals (the Cottages have a full kitchen and a grill) or just sit and read while enjoying some Rum Therapy….
5. Bring a good bug spray to stave off the no-see-ums that come out after dark.
6. Jost Van Dyke is very hilly, which adds to it's beauty, but if walking up and down hills is difficult for you, be sure to rent a jeep for your time there. We rented a jeep for two days to see the rest of the island, but will probably rent it a bit longer when we go back.
7. Bring some cash. Credit cards were accepted at the bars and restaurants we visited, as well as the car rental agency; however, there are no ATM's on Jost and cash was needed for taxi's and the ferry back to Tortola.
8. Most of the bars/restaurants were open by the end of our stay there, but some close down for a while during slow season, so be sure to take that into consideration when planning your stay.
9. Thad, the on-site manager, was very helpful and can give recommendations on what to see and do while on Jost.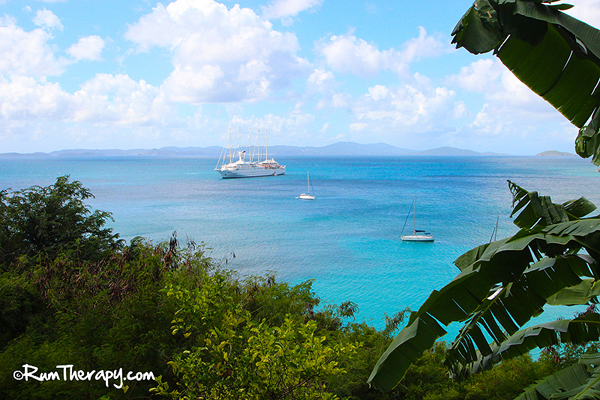 There are many things to experience on Jost Van Dyke and surrounding islands and one of the best things about staying here was that you could do as much or as little as you wanted! Watch for upcoming posts on some of our experiences while on Jost Van Dyke!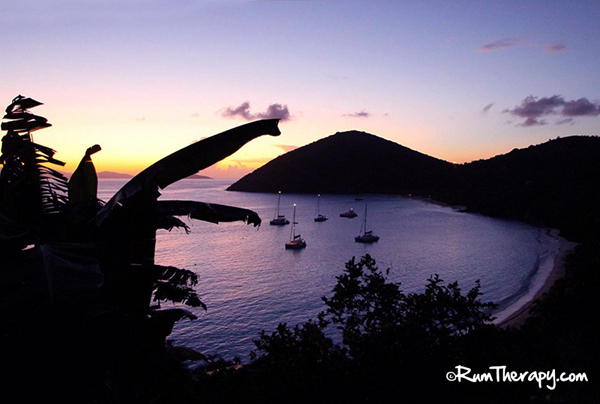 The very best part of our visit? Just watch and listen….


Other Jost Van Dyke posts you might be interested in:
White Bay, Jost Van Dyke


copyright©Rum Therapy
Pictures and other content may not be re-used without written consent from Rum Therapy, LLC