And all I ask is a tall ship and a star to steer her by….
Sea Fever by John Masefield
For those of you that have followed us for a while, you know that not only do we love beautiful tropical beaches, island vacations and rum, we have also grown to love sailing…so, when we got an invitation to participate in a week long sail on the Tall Ship Diamant through Island Windjammers, we jumped on it! The Diamant sails from Grenada through the Grenadine Islands on a 6 day sail for most of the year, but also offers several longer cruises.

The Diamant has 6 cabins for 12 guests and a crew of 6. Meals and most beverages are included – and believe me, you are well fed! During our 6 day sail, we covered 144 miles and saw 9 different islands – some of them completely uninhabited. The sailing was incredible, the food was amazing and the sights were…well, indescribable.

Tobago Cays, The Grenadines

We boarded not knowing any of our fellow passengers or crew, but left with lots of new friends!

Our shipmates and new friends enjoying some Rum Punch on Happy Island
We took, oh, about 2,000 pictures during our sail and so we thought we'd give you the highlights of our trip through pictures. As they say, take only photographs and leave only footprints!

Our berth for the week, Cabin #2. Diamant Deck Configuration: Roll your mouse over the diagram to see pictures of cabins.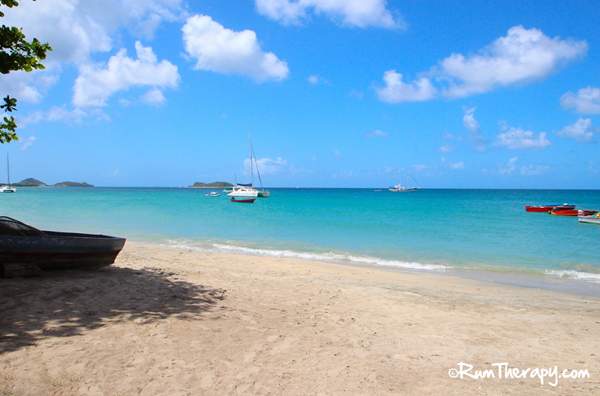 A beautiful beach on Carriacou

Princess Margaret Beach – Bequia

Enjoying  Lobster Pizza at Mac's in Bequia

A great cheese plate (complete with jalapeño mice) for the wine and cheese party.

Had a great time gettin' happy at Happy Island.

Kite surfers giving us a show at Happy Island

Enjoying the cultural walk, er – bar crawl on Mayreau

Shopping, island style, on Mayreau

We were treated to a rainbow over Sweezle Time – the name of the new dinghy

Enjoyed a picnic and an afternoon in the sun in Tobago Cays

Snorkeling with the turtles in Tobago Cays – awesome experience!

Captain Nervo demonstrating the proper rope swing dismount. Apparently he'd done this a few times before…

Every evening during Happy Hour, Brandon served up the infamous Diamant Rum Swizzles (or Sweezles as Capt. Nervo calls them). I asked for Brandon's recipe and he said, oh, just a bit of this juice and that juice and some rum. Hmmm…code for TOP SECRET RECIPE??  Anyway – they're delicious!

One last day of sun, sand and snorkeling on beautiful Sandy Island. We look pretty stressed, huh?

One last sunny sail back to the island of Grenada. Great adventure, great time.
Thank you Island Windjammers!
To find out more about Island Windjammers, check out their website:
http://www.islandwindjammers.com/default.aspx
Facebook page:
https://www.facebook.com/IslandWindjammers
Email them at:
[email protected]
Or call:
877.772.4549
To see more posts on The Grenadines and other islands, check out our Island Blog Directory
copyright©Rum Therapy Beaches, Bars & More, Tropical Travel Guide, 2013
Pictures and other content may not be re-used without written consent from Rum Therapy, LLC