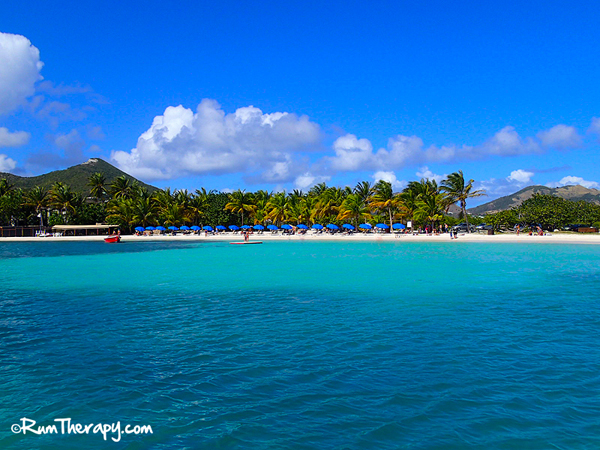 View of Le Galion from one of the floating platforms
Le Galion – this lovely, calm beach on the east side of St. Martin (French side), is just south of popular Orient Beach. Le Galion is sometimes called Baie de L´Embouchure. The beach is protected by a coral reef and is usually quite calm. It gets deeper very gradually and is shallow and crystal clear close to the shore.
Access: When heading north to Orient Beach, turn right on Ru Du Coconut Grove and follow the signs to the Butterfly Farm. Pass the Butterfly Farm and continue to the end of the road. There's a large parking lot close to beach.
Beach: Le Galion has a large stretch of soft, light colored sand with very gentle access and sandy bottom. There were a few patches of sea grass and we saw a few people snorkeling. There are two floating platforms in the water – one in a shallow area and one farther out that you can swim to.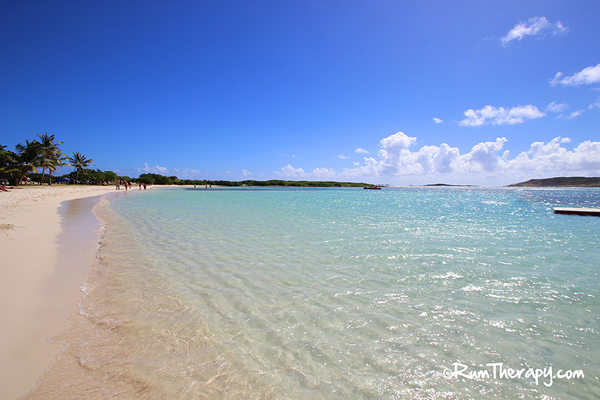 Looking east (from the beach chair area) at Le Galion Beach

Amenities: beach chairs and umbrellas to rent, food and drink available at the bar called Tropical Wave, restrooms, water-sports rental area, sand volleyball pit, picnic tables and some shade.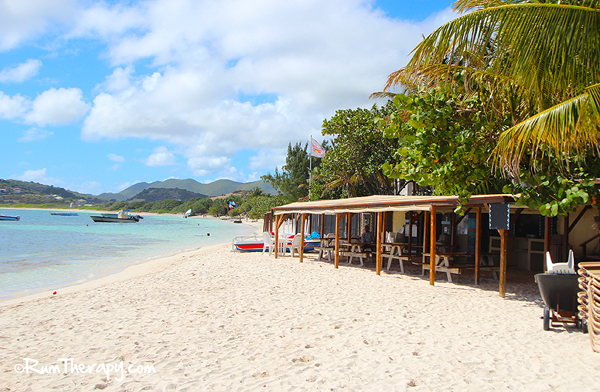 Tropical Wave Bar & Grill and Water Sports Rental
Recommended for: those wanting a somewhat quieter beach than Orient (although Le Galion can get busy especially on weekends), beach is good for walking, picnicking, good place to learn SUP and kayaking, good beach for children.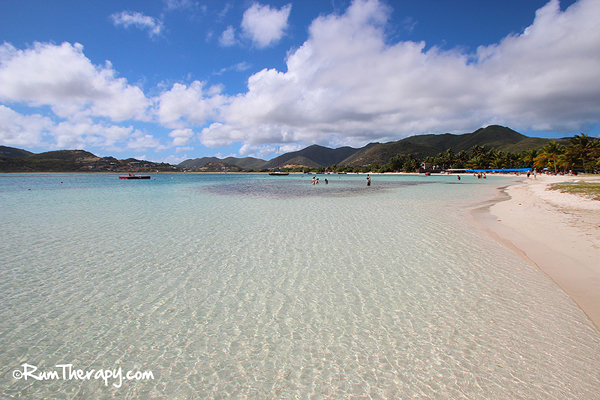 Looking west at Le Galion Beach
Find Le Galion on our St. Maarten/St. Martin Map


 Other Posts on St. Maarten/St. Martin that you might enjoy:
 Sunset Bar and Grill, St. Maarten
 Sint Maarten Yacht Club Bar & Restaurant
 Sarafina's Bakery, Marigot St. Martin
 Karakter Beach Bar, St. Maarten
 Guy's Driftwood Boat Bar, St. Maarten
To see more posts on St. Maarten/St. Martin and other islands, check out our Island Blog Directory
copyright©Rum Therapy
Pictures and other content may not be re-used without written consent from Rum Therapy, LLC