During our recent visit to St. Maarten/St. Martin, we made 2 stops at our favorite french bakery, Sarafina's. In Marigot, not far from the open air marketplace, Sarafina's is a great place to linger over a cappuccino and an excellent french pastry.

We made our first stop of the trip on the day we took the ferry to Anguilla. Not far from the ferry dock, we bought our tickets to Anguilla, then walked back to Sarafina's for a quick pastry. After a bit of deliberation, we settled on a Tarte de Pomme (apple tart).
Needless to say it was excellent, and we vowed to return again in a few days to make a different selection.

Which we did. This time we decided to each pick two pastries, sample a little bit of each one, then take the leftovers with us. Really, that's what we said.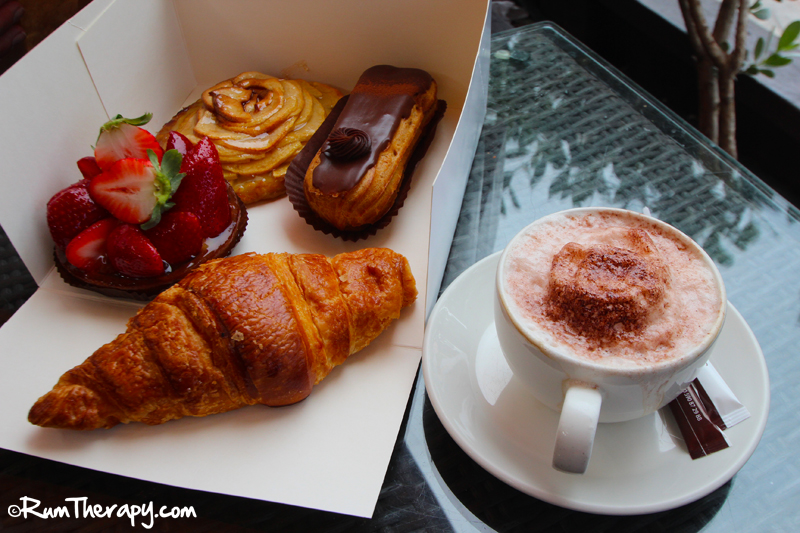 Another Tarte de Pomme, Croissant, Eclair de Chocolat, and a Tarte de Crème Anglaise de Fraise (Strawberry Custard Tart)
How many leftovers did we have? HA! Leftovers? What were we thinking?
Heading to Marigot? Here's a Marigot Waterfront map from http://www.marigotwaterfront.com/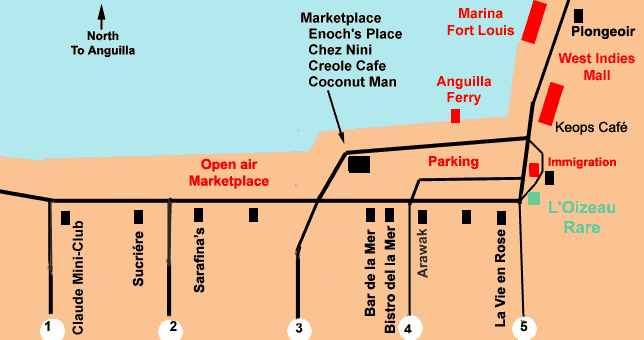 There are a few parking spots in front of Sarafina's and all the way down the street, and a larger parking area in the area of the Anguilla Ferry dock.
Other fun things to do in Marigot?
Hike to the top of Fort St. Louis for a beautiful panoramic view and learn the history of the Fort.
Experience the open air market in Marigot on Wednesdays and Saturdays to find some local items (including infused rhum), spices, fresh fish and produce.
Go see the "Coconut Man" at the Coconut Juice House behind the open air market and order cool and refreshing coconut juice served in the actual coconut. Watch as he opens the coconuts and strains sugarcane to use in the drinks. Other fresh tropical concoctions (good piña coladas!) are also available.
copyright©Rum Therapy Beaches, Bars & More, Tropical Travel Guide, 2013
Pictures and other content may not be re-used without written consent from Rum Therapy, LLC