When visiting the tropics, do we like to do something other than soak in the sunshine and drink rum drinks? Absolutely, although we really do like to sit in the sunshine and drink rum drinks….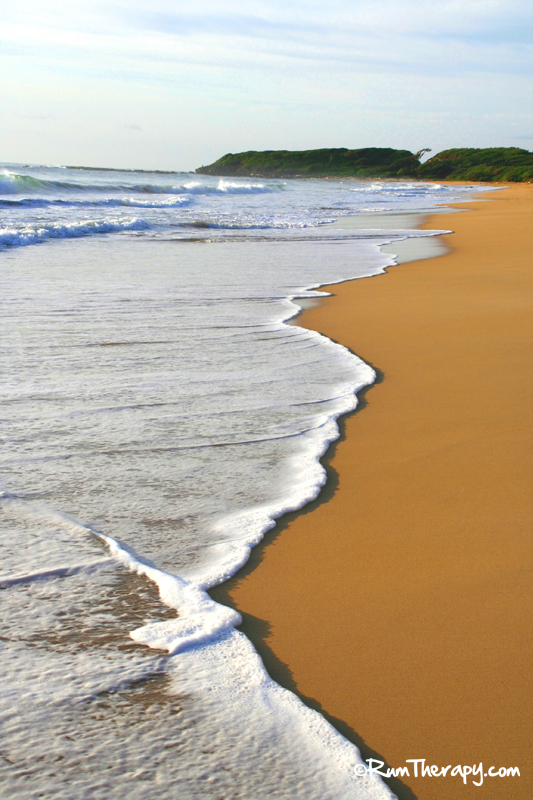 Anyway, during a trip to Kauai, we wanted to experience the incredible Na Pali coast. Since there are no roads over the Na Pali coast, the only way to experience the beauty in person is by helicopter (which we did), boat (which we did not do due to the rough surf while there) or by foot.
The trail along the Na Pali coast extends 11 miles (one way) from Ke'e Beach to Kalalau Beach along the spectacular cliffs of Na Pali. Many people like to backpack in and camp close to Kalalau Beach and camping permits can be obtained through Hawaii Department of Land & Natural Resources.
Although we would have loved to experience the phenomenal beauty of Kalalau Beach in person, the thought of hiking 11 miles (one way) and sleeping in a sleeping bag (as opposed to the very comfortable bed we had back at the resort) was, well, not that appealing. Instead, we opted to hike two miles in to Hanakapi'ai Beach with the option of continuing another two miles to Hanakapi'ai Falls.
We drove to Ke'e Beach, parked in the parking lot at the trail head and headed up the trail.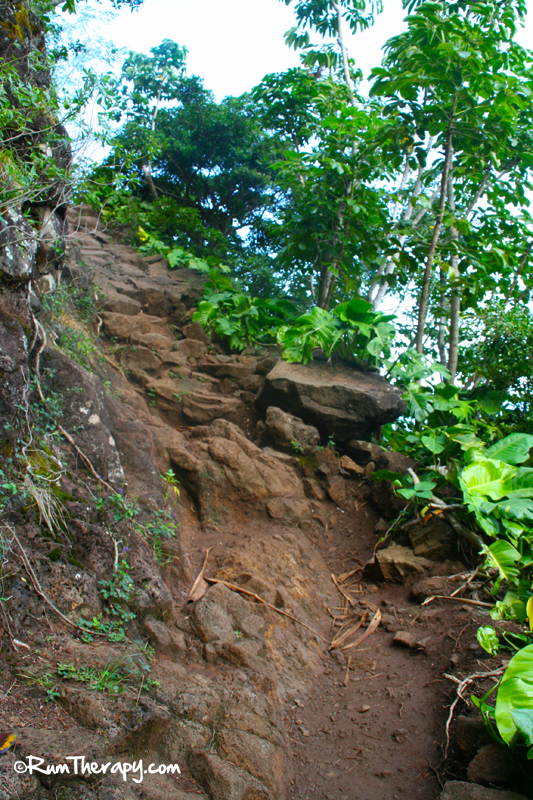 First part of the trail, hmmm….what are we getting ourselves into?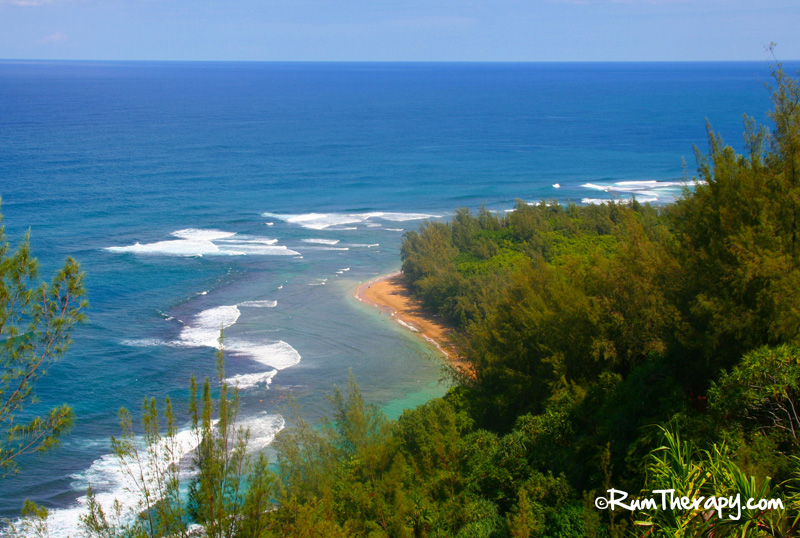 Overlook of Ke'e Beach from the trail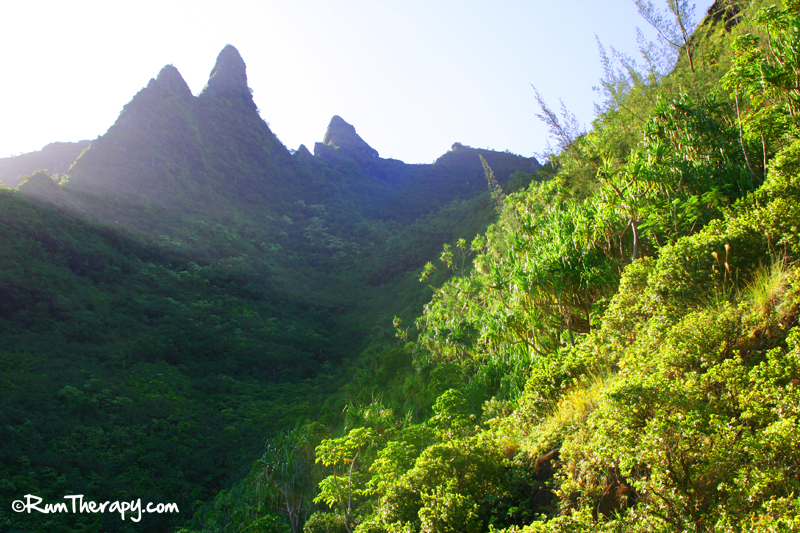 Pretty clear why Kauai was chosen as a filming location for Jurassic Park!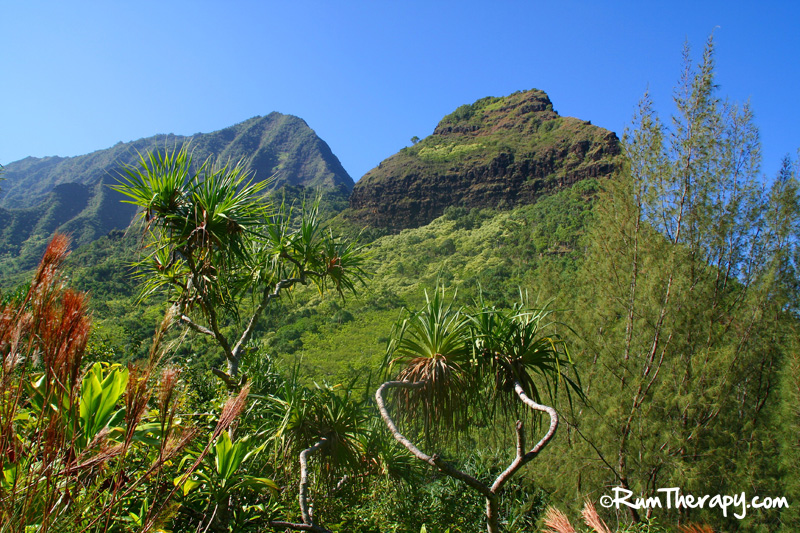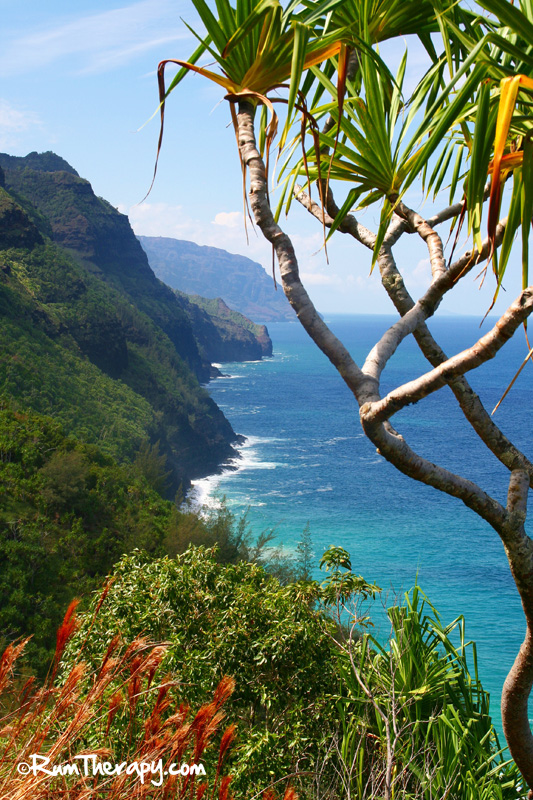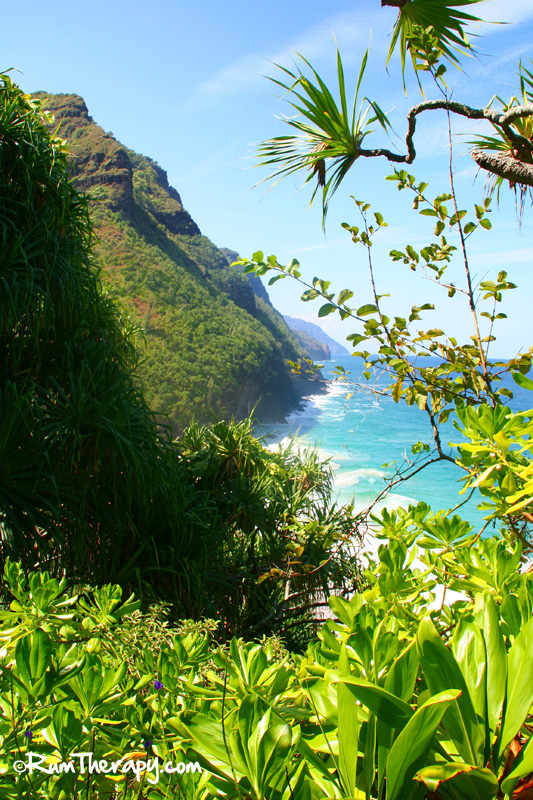 Dramatic scenery around every bend. As we approached this area, we heard thunderous crashing – almost cannon like and then spotted this sign on the trail.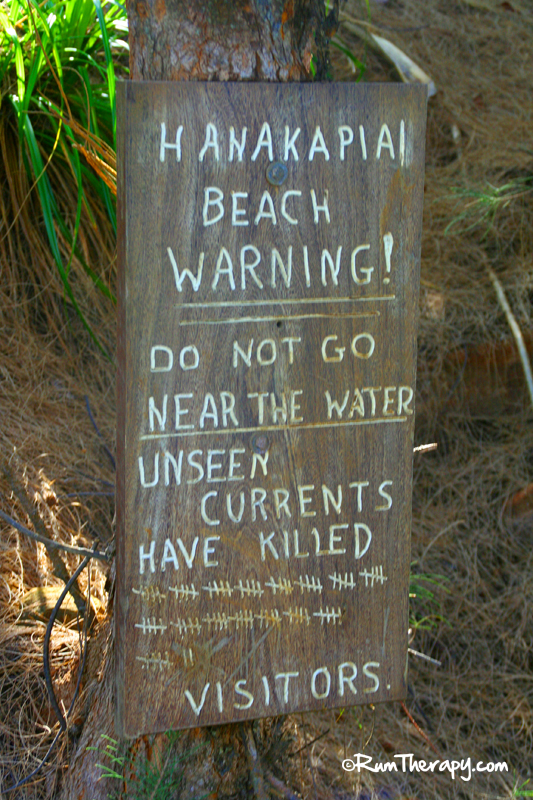 Yikes! Think we'll take this one seriously…
The next corner gave us our first glimpse of Hanakapi'ai Beach.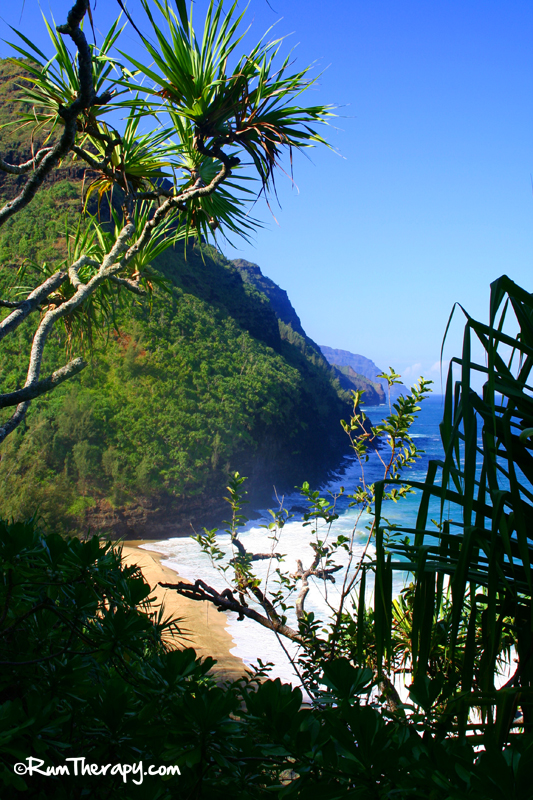 A few hundred more feet down,we crossed a river and landed on the sand of Hanakapi'ai.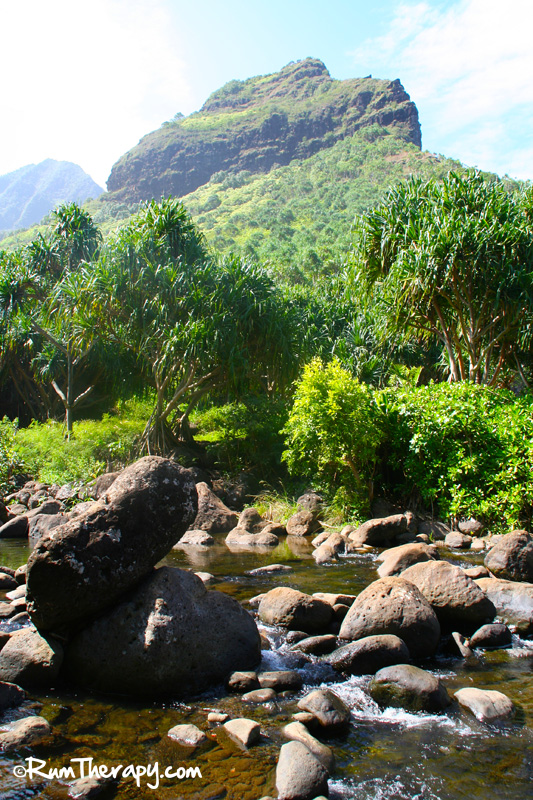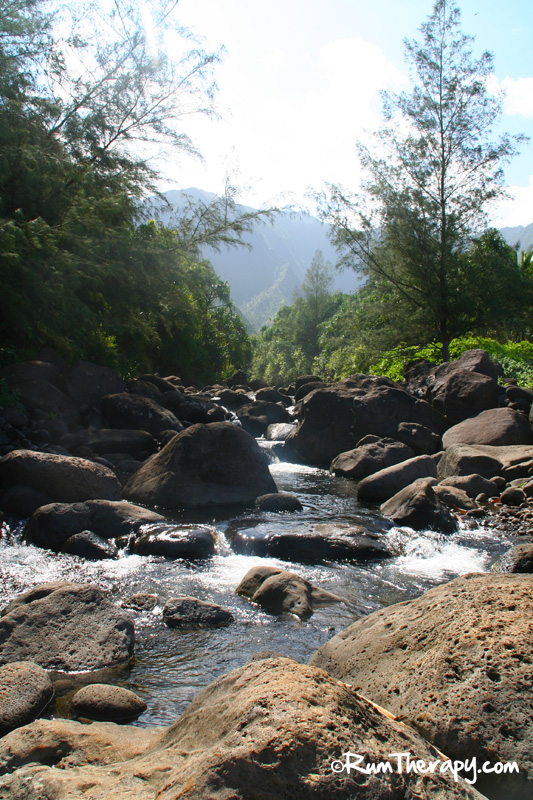 At that point it was fairly obvious why getting in the water was discouraged here…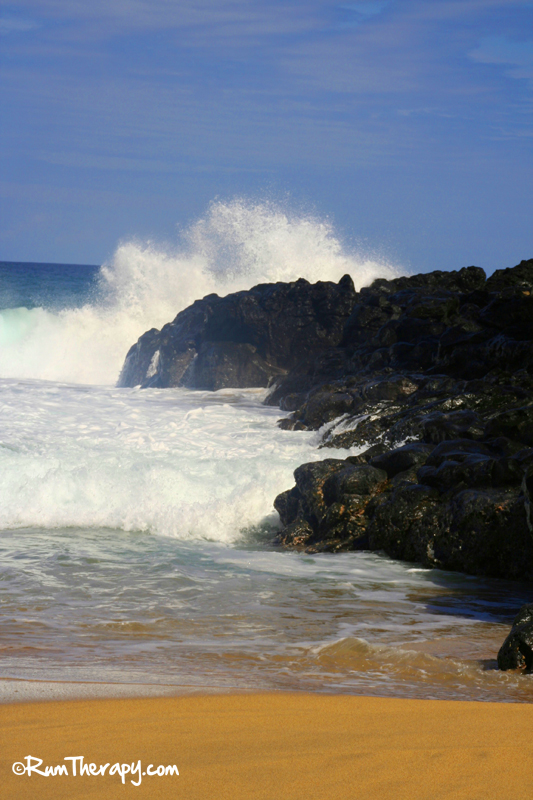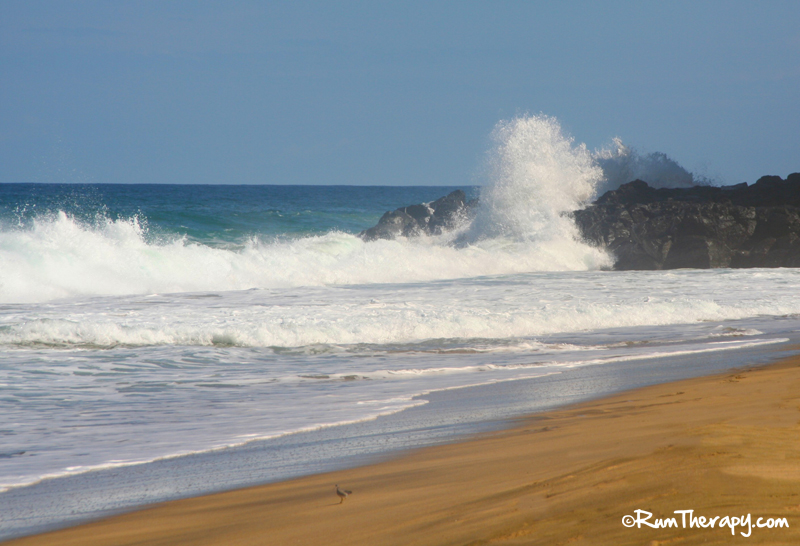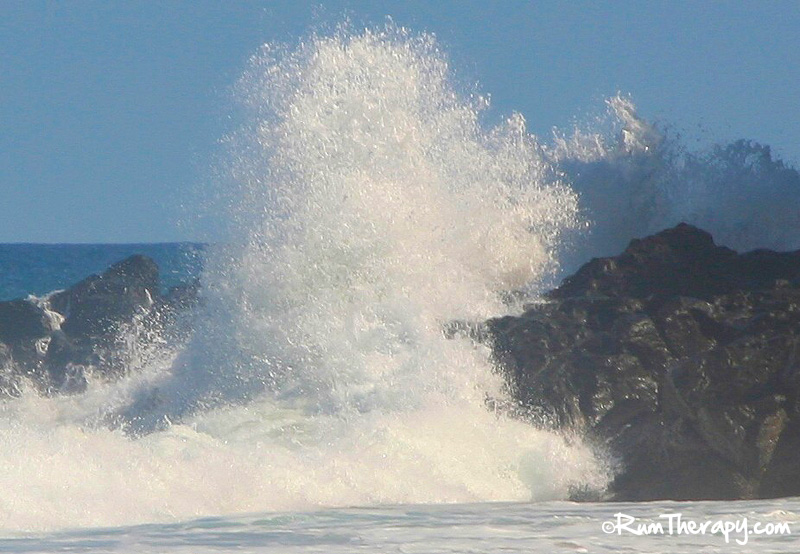 After exploring some of the geological features of the area, we sat on the beach enjoying some water and Snickers bars.

We lingered a lot longer than we should have, taking in the rugged beauty and tremendous power of the ocean.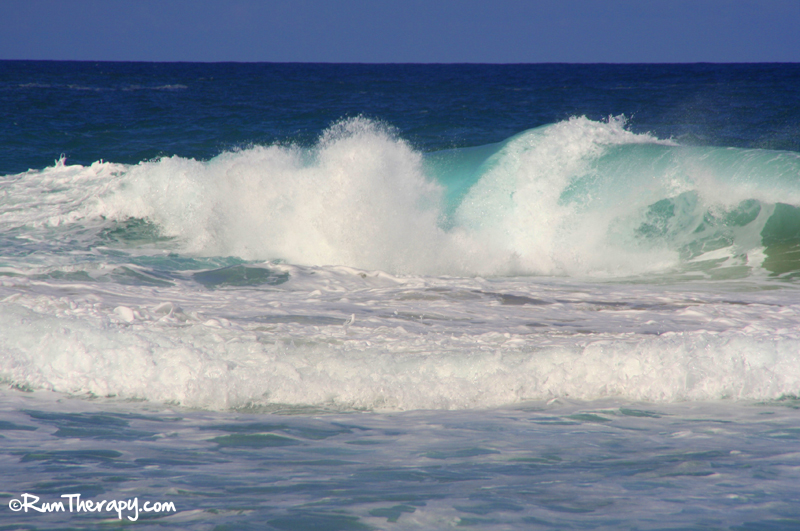 And when we finally stood up again, we realized that there was no way we'd make it another two miles to Hanakapi'ai Falls. In fact, with our legs feeling like limp noodles, we'd be lucky to make it back the two miles to our car in time to get back to the resort for our scheduled, and after this hike, very needed 4:00 massage on the beach….
More Hawaii Posts:
Rum Therapy On Kauai
Ziplining in Paradise
Helicopter Ride in Kauai
Lava Flow Recipe
copyright©Rum Therapy Beaches, Bars & More, Tropical Travel Guide, 2013
Pictures and other content may not be re-used without written consent from Rum Therapy, LLC