Rendezvous Bay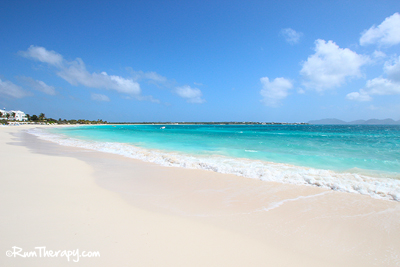 Read more about our visit to Rendezvous Bay.
More than two miles of almost blindingly bright white sand and blue, blue water...no problem finding a secluded place to lay your towel... Access: We parked at the Anguilla Great House and walked through to the beach. You can also access the beach through Dune Preserve. Be sure to stop and order a rum punch!
Beach:
Amazing long expanse of white, white sand. Good swimming, surf can be a little rough on windy days. Great beach for walking.
Amenities:
Dune Preserve and The Sun Shine Shack for food and drink
Go for:
miles of amazing white sand and blue water, seclusion and good beach bars