We first heard of William Torrillo when he"liked" the Rum Therapy Facebook page as Old Mango. We instantly went to check and see the Old Mango page and immediately "liked" him back. There before us were stunning pictures of some of our favorite islands in the Caribbean – I mean stunning…  The pictures make you feel like you are right there – the colors, the clarity – you can almost smell the sea breeze. He sees things through the eyes of a tropical soul.
We've been in touch back and forth though Facebook pages – us admiring his beautiful photographs and he commenting on all things rum and even occasionally complimenting  our photos! He mentioned a few months back that he was hoping to move to the islands in the near future and his dream of doing so is actually taking place today! We asked him last week if we could interview him for our "Making Your Tropical Obsession Your Profession" series and he obliged. This is what we found out about William Torrillo – Photographer.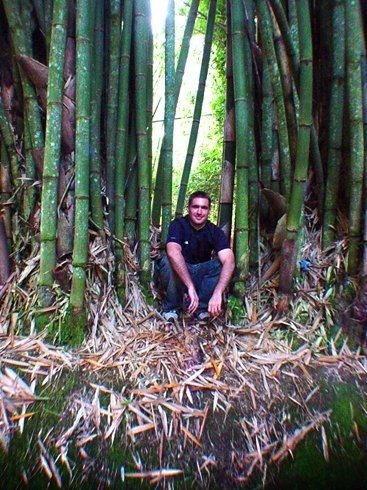 William in a jungle in Columbia
Tell us a little about your photography career. 
I have always loved photography and have been shooting since I was 10 years old. I remember taking a summer course in middle school back in Virginia. We learned how to develop film, various shooting techniques, and even built a pin hole camera (in which I still have to this day, and it works!)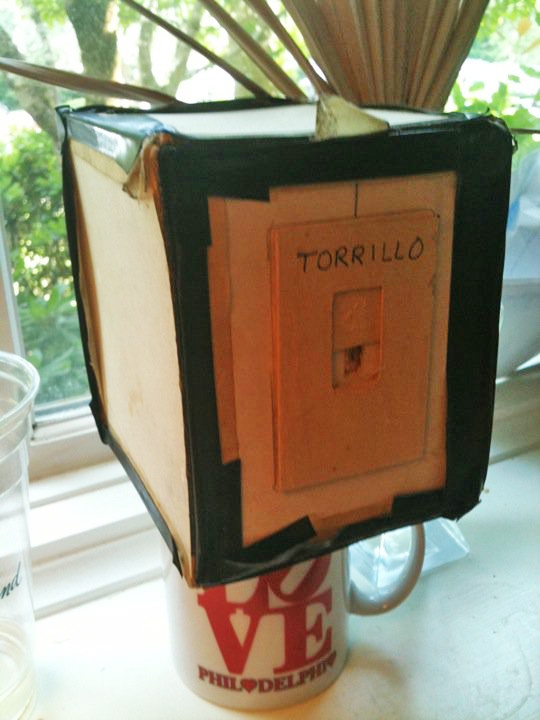 I shot freelance in Miami Beach for about 4-5 years, while I was attending culinary school at Johnson & Wales University. I graduated and decided life as a chef wasn't for me, so I continued with photography at Sea Island Resorts, in Southern Georgia. I was staff photographer there for 4 1/2 years before making the decision to move to the Virgin Islands full time.
I've noticed that many of the photographs you post are from the VI's and BVI's – have you traveled there a lot? What is it about that area that attracts you?
There is something about the sea that relaxes me, and I've been all over the world, but something about the people, culture, and arts of the VI makes me feel at home. The colors of the water meeting the sky is just breath taking and I truly never get tired of living those moments. The 1st time I visited the Islands was in Long Bay Beach, Tortola. It really opened my eyes to the Caribbean, and that's what started my photo journey.
You're making a big move this week. Have you been planning this move for a while?
One day on the ferry back from Jost van Dyke, I looked back as the sun was setting and said to myself, I don't like leaving here..I need to make it my home. Ever since then, I have been saving every penny and shooting extra gigs to help pay for my move to St. Thomas (Took about 3 years..)
What will you be photographing from your new home base?
I decided that being on the East End of St. Thomas would be best, because it would save money on ferry rides to the BVI, and it a little less crowded. My studio will offer photographic and design services such as weddings, real estate, lifestyle, resorts, etc…and also graphic design and web design.
What are some of your other interests?
Being a trained chef, cooking is my greatest passion..besides photography. I love to travel and stop at local markets, meet locals and talk about food, try some new recipes. Anything with mango, coconut, dark rum, and fresh fish are my favorites. Also, love sports, especially football and soccer…can't wait for the next FIFA World Cup, go USA!
What are your dreams for the future?
Have a successful studio in the USVI, travel the islands and show the world how beautiful it is thru my lens. My art and photography have brought so many great friends into my life, so I am thankful for that, and I hope to make some more.
Do you have a hint for us amateur photographers on how to take better vacation pictures?
Shoot what makes you happy, you can see it in the photos you take. Photography is like cooking, lots of different ways to make the same dish. So ask questions, learn from others, and read the manual! The technical aspect isn't as important in my opinion, just read about aperture, shutter speed, and ISO…and the subject doesnt always have to be in the center of a photo. Try something different every now and then.
Anything else you'd like us to know about you?
I am in the process of writing a BVI travel guide, Old Mango Guide to the Islands. I'm about 2 years into it right now, and hopefully will find a publisher in the near future. The guide I am writing is focused on the everyday tourtist with a budget most of us can afford. I interview chefs, bar owners, ferry boat captians, locals and tourists and try to bring a side of the BVI not seen before, and of course, covered with beautiful photos! I don't think I will be doing a write up on Necker Island, but if Sir Branson calls, ill make an exception!
You mentioned to me that you'll be traveling pretty light to St. Thomas, care to elaborate?
As a photographer I like to travel as light as possible. The more comfortable I am, the better the photos will be..most of the time! So when I decided to move from Georgia to the Virgin Islands, I sold my car, gave away most of my clothes, and lived lightly. I was fortunate enough to find a furnished condo in St. Thomas, so I will be bringing just one suitcase of clothing, some local Georgia BBQ sauce, and my camera!
Be sure to check out William's
Old Mango Facebook Page
and the
Old Mango website
 for regular picture posts (sometimes in wallpaper resolution!) that will have you longing for your next island vacation. He's just purchased a new 1080p HD video camera – so I'm sure we'll see some amazing new island videos in the near future too. Enjoy your new home in St. Thomas Old Mango – we'll look forward to seeing the beauty of the area through your eyes…