Rum Balls are a pretty popular holiday treat. Thanks to Christie for sharing her recipe for Chocolate Rum Balls – yummmm… To make Coconut Chocolate Rum Balls, substitute Coconut Rum for the dark rum.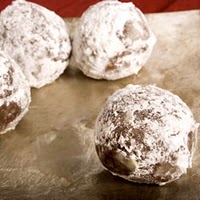 Chocolate Rum Balls
½ cup (1 stick) of butter, softened
1/3 cup granulated sugar
1 egg yolk
1 tablespoon dark rum
1 teaspoon vanilla
1 cup all purpose flour
¼ cup unsweetened cocoa powder
1 cup finely chopped walnuts or pecans
Powdered sugar
Combine butter, granulated sugar and egg yolk in large bowl; beat until light and fluffy.  Add rum and vanilla; mix well.  Add flour and cocoa; stir until well blended.  Stir in nuts.  Cover; refrigerate 1 hour or until firm.
Preheat oven to 350ºF.  Lightly grease cookie sheets or line with parchment paper.  Shape dough into 1-inch balls; place 2 inches apart on prepared cookie sheets.  Bake 15-20 minutes or until firm.  Transfer to wire racks; cool 5 minutes.  Roll warm cookies in powdered sugar.  Cool completely on wire racks.