I'm not a fan of heights, Actually, heights probably don't bother me as much as the fear of falling – off of something high. So, I really didn't know what to think when asked if I wanted to go on a zipline during a trip to Kauai. I was assured that falling really wasn't an issue and that we would be strapped in quite well. After all, they said – how many chances would I have to zip through the lush tropics of Kauai? 
There were two options for ziplining in Kauai and we chose Kauai Backcountry Adventure simply because it was recommended by a friend who had recently ziplined with them. We set up a tour time for the following day.
To say I was nervous as we drove to the Kauai Backcountry office that day would be an extreme understatement. It was a beautiful day and I should have been looking at the lush foliage and beautiful scenery as we drove with the top off of our rental jeep, but all I could think of was whether I could actually allow myself to hurtle down the mountain on a thin cable.
We checked in and I immediately felt a little better. The staff was wonderful and our guide, who must have sensed my fear, was funny and very reassuring. We signed the obligatory forms, got strapped into our gear and took a very bumpy four wheel drive up to the ziplines.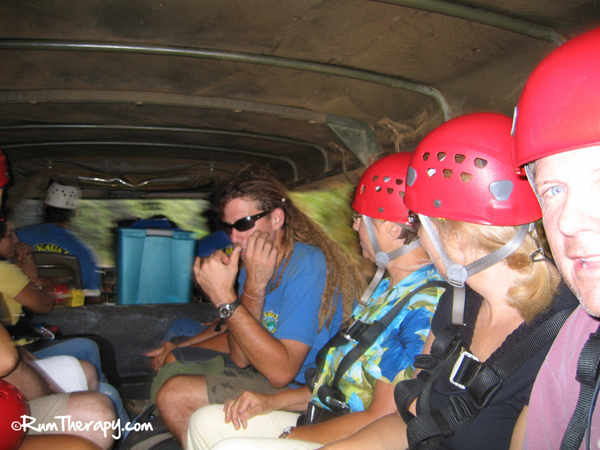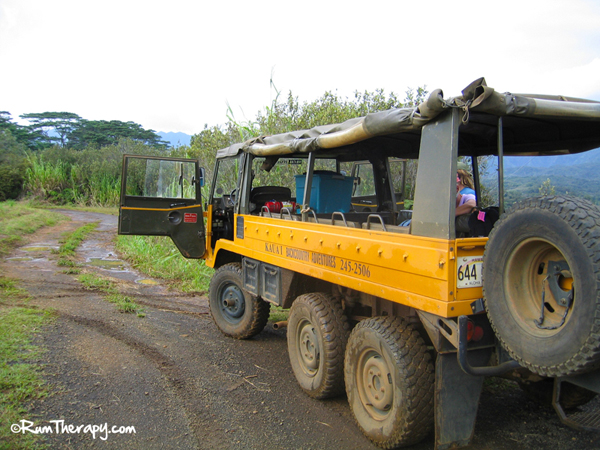 The Kauai Backcountry Adventure Zipline Tour begins at a point with an astounding view of Mt. Waialeale – one of the rainiest spots on earth with an average 426 inches of rain a year. All of that rain makes it one of the greenest and most vegetated places I've seen.
We took in the beauty of the area for a few moments and then saw this: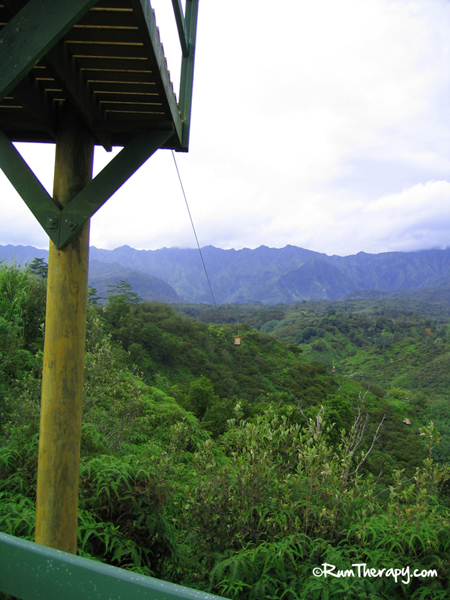 My irrational fear kicked into high gear and I thought "I'm not walking off of that platform!!!" Fortunately, the platform we started on was not near as high or steep. I watched as several brave souls went before me and then it was my turn. As I looked down, I second guessed my choice of clothing that morning. Wouldn't bright neon colors be easier to find it I somehow plunged into the foliage?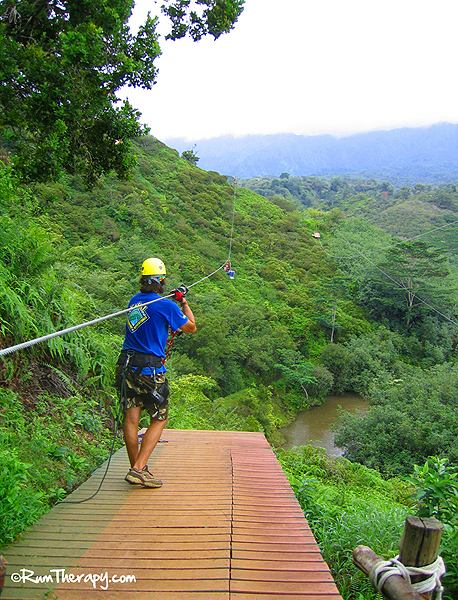 My heart pounding in my throat, I stepped off the platform and zipped down the cable towards the next platform, screaming loudly the whole way! I had the presence of mind to keep my feet up and landed squarely on the platform. Realizing I had lived through it, I took a deep breath. That wasn't bad at all!
During subsequent zips ( I believe there were seven cables in all) I even relaxed enough to look around and see the incredible beauty around me. Rivers, lush plants and trees and that beautiful mountain. Wow- what a ride…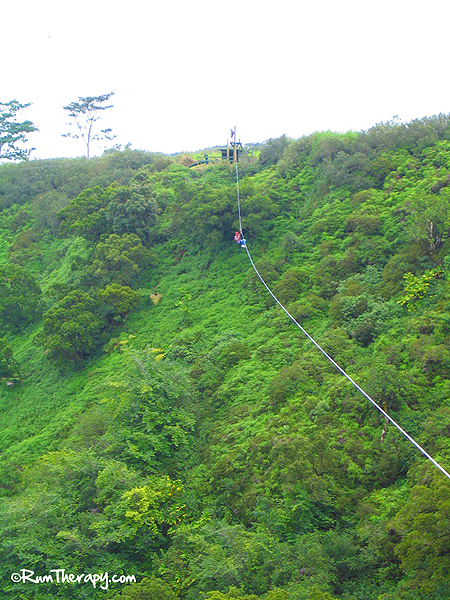 Ziplining has become quite popular and is now available in other tropical locations such as Antigua, Dominica, St. Kitts, St. Lucia, Roatan and St. Martin. Hmmm…I actually liked it so much that I might even be convinced to try it again on an upcoming trip to St. Martin. Think I'll wear some neon colors though – just in case…
To find out more about Backcountry Adventures, visit their website here: Kauai Backcountry Adventures

Other posts on Kauai that you might be interested in:
Hiking the NaPali Coast in Kauai
copyright©Rum Therapy Beaches, Bars & More, Tropical Travel Guide, 2013
Pictures and other content may not be re-used without written consent from Rum Therapy, LLC