Have you ever thought of selling everything you own, buying a boat and sailing away in the warm waters of the Caribbean? Ahhh, well, that's a scenario we have daydreamed about for years, but, alas, will remain a mere dream – at least for now. Instead, we'll live vicariously through those individuals who have been able to "just do it" and are kind enough to let us follow along through their photos and writing, Here's the story of Ben & Katie who "just did it" and, last I heard, were sailing around beautiful Marsh Harbour, Bahamas.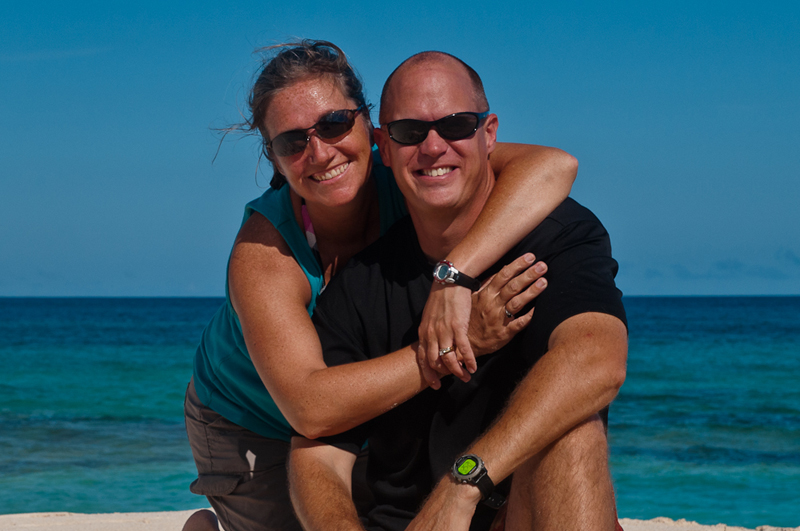 Ben & Katie
1. Can you tell us a little about yourself? What did you do prior to buying a boat?
We are a little younger than most cruisers, we started when we were in our mid to late 30s and now Katie is in her late 30s (and will probably stay that way for decades to come)and I am 41.  We both have had corporate jobs, 15 years in the pharmaceutical industry for me and Katie started off in banking before starting her own professional photography business about 6 years ago.  Unfortunately this left little time for boating so our experience level was low to start.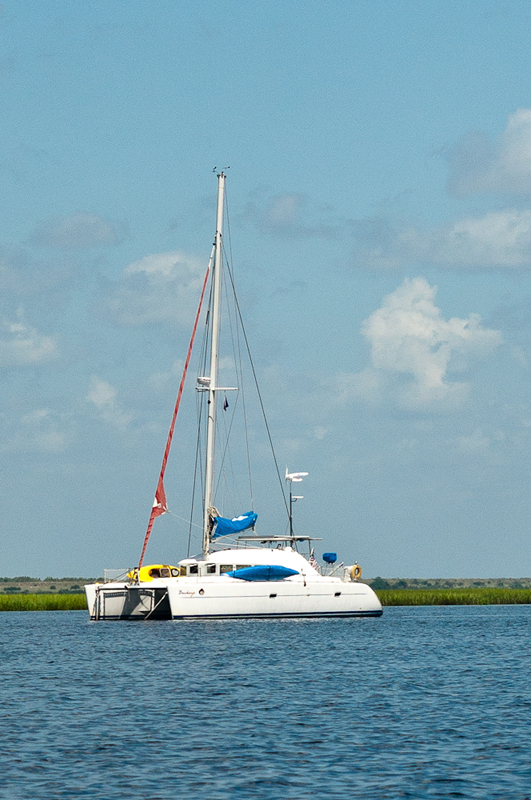 S/V Buckeye
2. How did you decide to buy a boat and sail the Caribbean?
I grew up fascinated with the ocean and traveling.  Weaned on Jacques Cousteau, National Geographic and Jimmy Buffett, sailing away to exotic lands has been a dream of mine since I can remember.  On our first date ten years ago, Katie and I talked about that obsession and then she was swayed by my romantic ideals.  However, it was not initially part of our short term plan after we got married.  Life circumstances changed and we began to think that we could move up our timeline and go for it. 
3. Has it been an easy transition?
Easy is a relative term.  While I think that we both transitioned well, there were some challenges.  Neither of us has ever been a pack-rat but it was still difficult to transition from a 4-bedroom house in the suburbs to a 38' catamaran.  We sold the house and much of our belongings, gave away or donated a lot more, and still have a storage unit full of stuff.   We moved aboard while still working and lived on the hook for a year while we readied the boat and ourselves for full time cruising.  Riding in a dinghy for half a mile in rain storms or bad conditions just to go to work was not fun! 
4. What do you enjoy the most about your life sailing? What locations/islands do you like best?
I always struggle with "mosts" and "favorites" because there are so many wonderful aspects to this lifestyle.  Katie and I both love nature and travel and sailing is the best way to enjoy both.  There is just something magical about being on a broad reach, sails trimmed perfectly and watching a pod of dolphins play off the bow wakes.  Things like that are once-in-a-lifetime events for many people and we never take it for granted.  As for locations, we really find something to enjoy at every stop, whether it is a familiar east coast port or a remote island somewhere.  We have sailed up and down the east coast, Florida Keys, Bahamas and in the Caribbean and loved it all, but ultimately we are island-people at heart.  Anywhere there is warm, clean, turquoise water is fine with us!
Great Guana Cay, Bahamas
photo: Katie Smith
5. Do you have a set itinerary?
We try not to have a firmly set itinerary because of the fickle nature of sailing and cruising, weather and maintenance.  That said, we do plan destinations and trips.  For hurricane season this year we cruised up to the Chesapeake and are planning on the Bahamas for winter.
6. What are the challenges of living on a boat?
This lifestyle isn't all boat drinks, Rum Therapy and sunsets.  There is a lot to maintain on a boat, from diesel engines to polishing the stainless, cleaning teak to scrubbing barnacles off the bottom, it is always something.  And it is physical.  Even digging into the fridge requires us to get down on our hands and knees to find something from the back of our front-loading refrigerator.  Provisioning requires long walks (no car) or public transportation, dinghy rides and carrying heavy bags for long distances.  Trying to chase down a needed part in a remote location can be a challenge, but also part of the experience.
7. How do you make it work financially?
Great question and one that we are still working out.  We are not independently wealthy and don't consider ourselves "retired", more on a sailing sabbatical.  After this winter we will come back state-side to find jobs for a while so we can re-build the cruising kitty before heading out again.  I am working on getting my U.S.C.G captains license and we eventually want to offer crewed charters, wedding and honeymoon packages from our boat.  Katie also chronicles our journey on our blog, svbuckeye.com and she wants to eventually publish a book.  And we are always looking for great companies to partner with to sponsor us in exchange for promotion on our blog.   I'm thinking of making a sign that says "will work for rum"!
8. How is your life different now?
It is very different from our former, land-based lives.  I think that overall, we are much happier.  We spend much more quality time with each other and communicate better.  And we find that this lifestyle is much less stressful than it previously was, no more interstate traffic jams, hustle and bustle of daily commuting and much less materialism and commercialism.   And of course, the weather – we are much more attuned to the weather since it dictates much of our travels. 
9. What advice would you give to someone who would like to sell it all, buy a boat and sail to the Caribbean?
Just do it! That was the best advice that we received and it is true.  If you keep waiting for the "right" time, you may never actually do it.  As for specifics, the list would be long for newbies like we were, less so for experienced boaters.  But in general, start downsizing now.  It takes a while and you start separating yourself from emotional attachments to "stuff".  Also learn as much as you can about boat maintenance, weather tracking, navigation and route planning.Sailing classes were a great start for us but you will never stop learning and gaining experience.  And try before you buy.  A few charters are a good start.  Better to know that both people like to sail before buying a boat, heading out and finding out that one person hates it.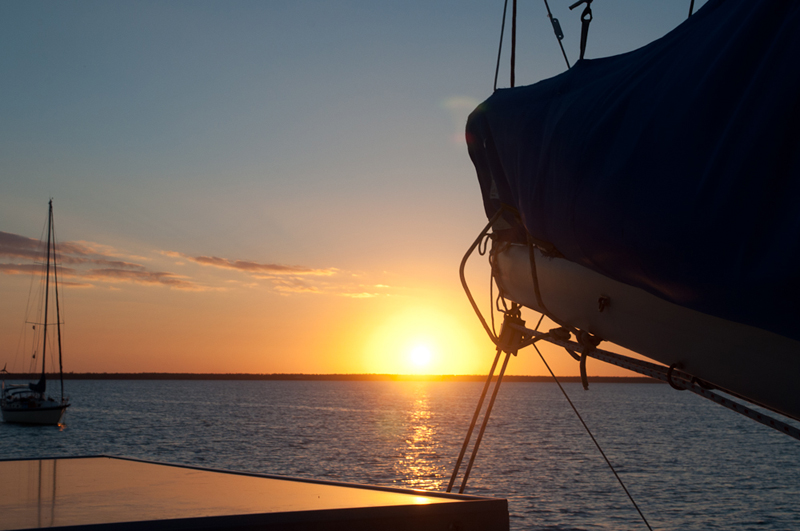 Sunset at Green Turtle Cay, Bahamas
photo: Katie Smith
10. Is there anything else we should know about you?
Katie and I are both from Ohio and overlapped during our time at Ohio State but never met until after I had moved to Florida.  Through circumstances she transferred down from Ohio to Florida several years later and we got married 10 months after that!  Our Ohio roots are important, hence the name of our boat, s/v Buckeye.  We also have two cats aboard, Sammie and Brutus.  Both were land-based cats before we thrust them into this lifestyle but both have adapted fairly well.  Sammie will even come up to the helm station to make sure that we stay on course when we are underway. 

Find other posts on Making Your Tropical Obsession Your Profession